NEWS
Tickets of Hayato Sumino Piano Recital on Dec.13th(Sun) Available for Overseas Customers
2020.12.04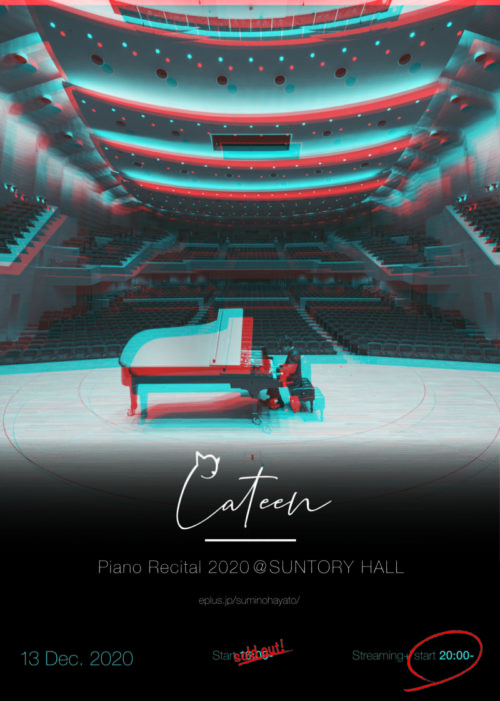 Tickets of "Hayato Sumino Piano Recital" to be held at Suntory Hall on Dec.13th (Sun) is available for overseas customers.
Start Time: 2020-12-13 20:00 JST
Archive: available until 2020-12-20 23:59 JST
Duration of the show: 90 mins. (Subject to change)
It will start when the scheduled time arrives. If you watch from the middle, it will be a livestream from that point and can not be rewound.
An email with streaming URL will be sent to you after your payment is confirmed. Please access the URL and enjoy the livestream show.
You cannot watch the live stream with multiple devices at the same time, but you can switch the device in the middle of the streaming.
This content is protected by copyright law, other related laws, and regulations. Any unauthorized use of the content on the internet may result in legal liability. Please follow the rules and enjoy the content.
Handling charge included in ticket(s) price.
▼Streaming Plus Service is available in the following countries and regions.
the United States of America, Taiwan, Thailand, Korea, Singapore, Australia, Canada, Indonesia, HongKong, Malaysia, Philippines
▼For more details
https://ib.eplus.jp/suminohayato
---
將于12月13日(周日) 在三得利音樂廳舉辦的《角野隼斗Piano Recital》海外配信決定啦。
直播開始時間:2020-12-13 20:00 JST
存檔回放:可在2020-12-20 23:59 JST 前觀看
※直播配信時間:預計爲90分鍾。(有變更的可能,敬請知悉。)
※到點後即開始播出。如中途進入觀看,則只能看到往後的內容,而無法回放前面的內容。
※視聽方式:購買成功後會收到含有觀看URL的郵件,請點擊URL觀看直播。
※無法在多個設備同時觀看,但可以中途切換設備觀看。
※本演出內容受著作權法等諸多法律保護。未經許可擅自在網絡上轉載可能會被訴諸法律責任,請遵守禮儀觀看。
※標價包含手續費。
▼販售對象僅限以下國家和地區。
the United States of America, Taiwan, Thailand, Korea, Singapore, Australia, Canada, Indonesia, HongKong, Malaysia, Philippines
BACK